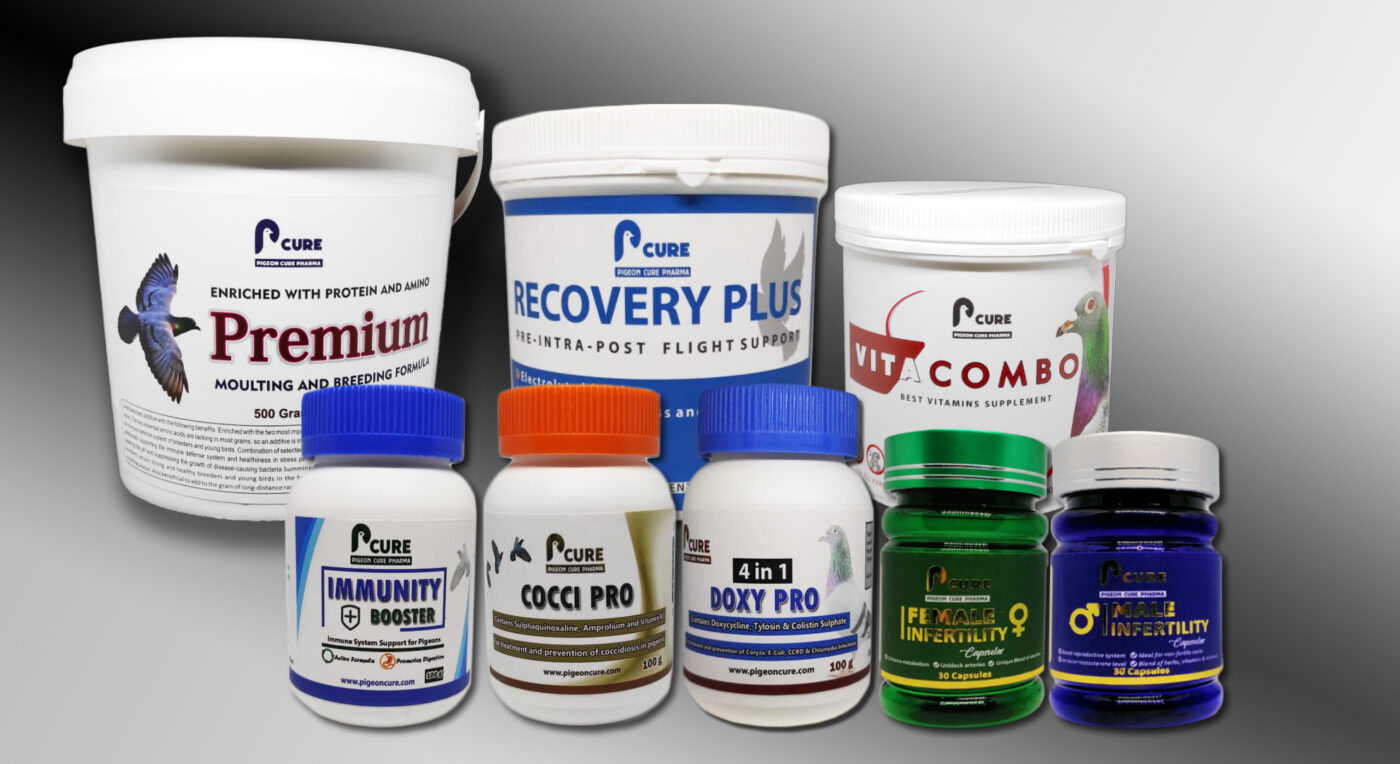 Moulting & Breeding Formula
PCURE's Moulting And Breeding Formula made from energy rich grains supplemented with the essential amino acids Methionine and Lysine, selected fibers and the important Omega 3 fatty acids. Adding the amino acids lysine and methionine to the grain will achieve close to a perfectly balanced protein source for the pigeons. It is a combination of vitamins, amino-acids, minerals and trace elements that support birds during the moulting, breeding period and racing season. It also works for poultry. Enhances fertility in older breeding pigeons and also promotes the enhanced absorption of sulphur, which is essential to feather growth.
Available Size: 500 g
VITA COMBO by PCURE improves deficiencies in the bird's diet and has proven to be excellent in supporting the treatment of diseases, that is, when antibiotics are administered. It is absolutely necessary to supply an increase in vitamins when administering medications, to counteract the destruction of the intestinal flora. VITA COMBO greatly promotes growth, efficiency, fertility and laying performance and positively influences metabolic processes. Contains calcium and selenium, which are important for healthy bone formation, eggshell development and growth, especially in young birds. It focuses on improving the metabolism of proteins, fats and carbohydrates, providing an extra dose of energy in Birds. It has a very positive effect on the nervous system.
Available Size: 200 g
Recovery Plus by PCURE – contains protein and energy rich feed in powder form to support sick or exhausted pigeons. It contains high-quality proteins, amino acids, vitamins, trace elements and minerals. Recovery Plus also contain probiotics, prebiotics, and digestive enzymes.


Immunity Booster by PCURE – contains all those natural ingredients which are essential parts of pigeons immune system and provide protection against diseases. As long as the pigeon's natural immune system works properly it remains healthy and save from all diseases but whenever natural immune system disturb or ruin from any stress so it is surrounded by various diseases.
Boost immune system
Repair and activate natural immunity.
Protect your pigeons from so many diseases
Less use of medicine after its use.
Ideal for any type of stress, after travel or severe weather conditions.
Ideal for use before vaccination.
Doxy Pro 4 in 1 by PCURE  – contains doxycycline + tylocin + colistin sulphate)
Doxy Pro contains broad-spectrum antibiotic formula used in treatments of bacterial infections. Used in treatment and prevention of Coryza, CCRD, Pigeon Cholera, IB Rickettsia, E. coli & Chlamydia infections. Active against gram-positive and gram-negative bacteria.
Available Size: 100g
Cocci Pro by PCURE – contains sulphaquinoxaline, amprolium and vitamin K3
Specially formulated for pigeons caecal and intestinal coccidiosis treatment and prevention.
Active against diseases caused by different types of protozoa & certain bacteria
It repairs mucous membrane of intestines and controls excessive blood losses
Available Size: 100g
Salmo Cure by PCURE – for the treatment and prevention of Salmonellosis and Paratyphoid in Pigeons & Cage Birds.
Male Infertility - Pigeons
Male Infertility by PCURE –  is a product support for optimal condition during the breeding season fertility in males, providing all the vitamins and nutrients needed for good reproduction.
Packing: 30 Capsules
Female Infertility - Pigeons
Female Infertility by PCURE –  is a product support for optimal condition during the breeding season fertility in females, providing all the vitamins and nutrients needed for good reproduction. Developed and tested by PCURE, suitable for non-fertile hens (pigeons).
Packing: 30 Capsules
PCURE's – Natural Apple Cider Vinegar helps pigeon in digestion, improves immunity. Control and kill the spread of E-coli and Salmonella bacteria in pigeon lofts. Very useful to use in Hot weather conditions.
PCURE's presents pure garlic oil. Promotes the condition of pigeon, ensures better circulation of the blood through the body and improves the function of the respiratory system and the digestive system. Also helps tot regulate metabolism